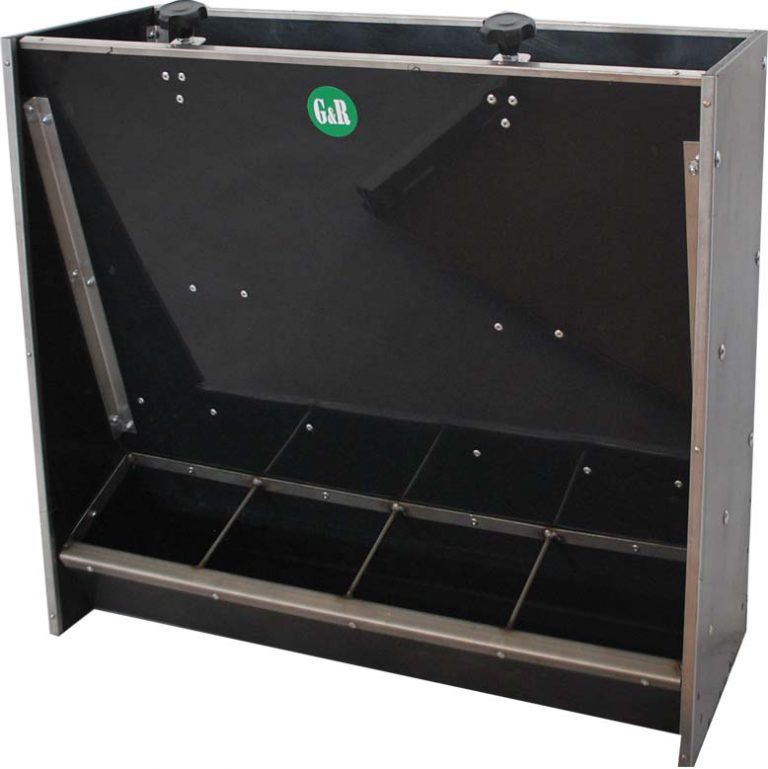 AN AUTOMATIC PIG FEEDER – FOR PORKERS
| No | Name | A | B | C | D | Kg/l | Pcs |
| --- | --- | --- | --- | --- | --- | --- | --- |
| 1 | AP1T | 1000 | 310 | 400 | 160 | 41/58 | 8-12 |
| 2 | AP1T/2 | 1000 | 310 | 800 | 160 | 82/116 | 16-24 |
| 3 | AP2T | 1000 | 615 | 400 | 160 | 84/120 | 16-24 |
| 4 | AP2T/2 | 1000 | 615 | 800 | 160 | 168/240 | 32-48 |
| 5 | AP3T | 1000 | 910 | 400 | 160 | 127/181 | 24-36 |
| 6 | AP3T/2 | 1000 | 910 | 800 | 160 | 254/362 | 48-72 |
| 7 | AP4T | 1000 | 1210 | 400 | 160 | 170/243 | 32-48 |
| 8 | AP4T/2 | 1000 | 1210 | 800 | 160 | 340/486 | 64-96 |
| 9 | AP5T | 1000 | 1510 | 400 | 160 | 213/305 | 40-60 |
| 10 | AP5T/2 | 1000 | 1510 | 800 | 160 | 426/610 | 80-120 |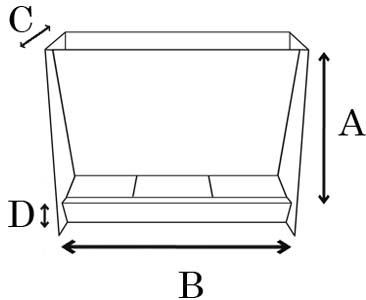 AN AUTOMATIC PIG FEEDER – FOR PORKERS 30-125KG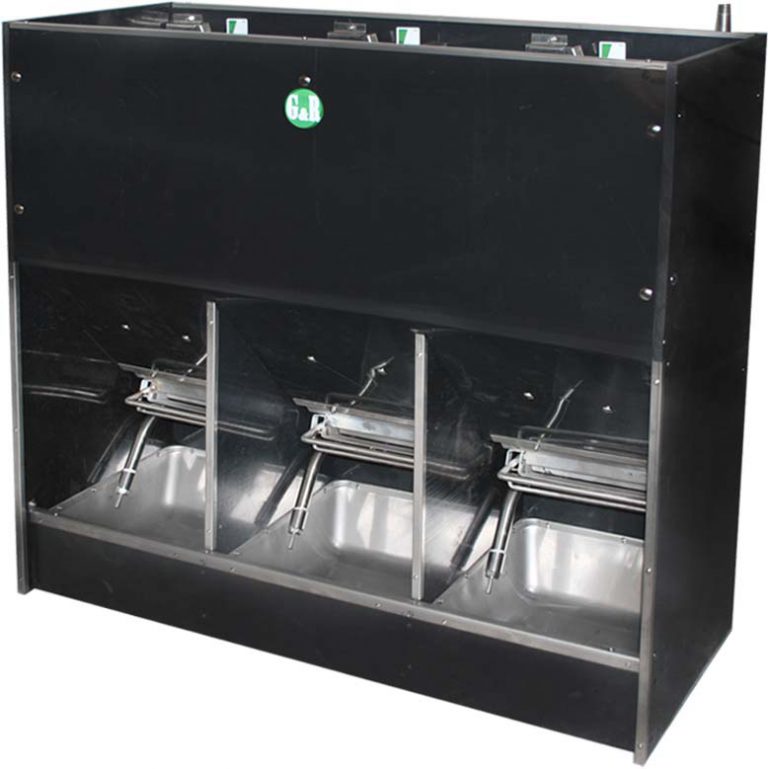 | No | Name | A | B | C | D | Kg/l | Pcs |
| --- | --- | --- | --- | --- | --- | --- | --- |
| 1 | APM1T | 1000 | 345 | 350 | 160 | 43/62 | 8-12 |
| 2 | APM1T/2 | 1000 | 345 | 700 | 160 | 86/124 | 16-24 |
| 3 | APM2T | 1000 | 675 | 350 | 160 | 87/125 | 16-25 |
| 4 | APM2T/2 | 1000 | 675 | 700 | 160 | 174/250 | 32-50 |
| 5 | APM3T | 1000 | 1005 | 350 | 160 | 131/188 | 32-49 |
| 6 | APM3T/2 | 1000 | 1005 | 700 | 160 | 262/376 | 64-98 |
| 7 | APM4T | 1000 | 1335 | 350 | 160 | 175/251 | 40-62 |
| 8 | APM4T/2 | 1000 | 1335 | 700 | 160 | 350/502 | 80-124 |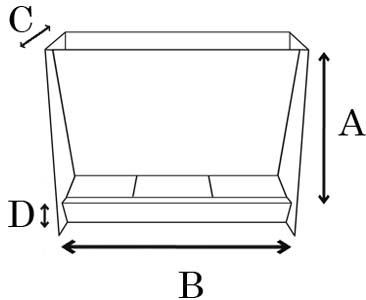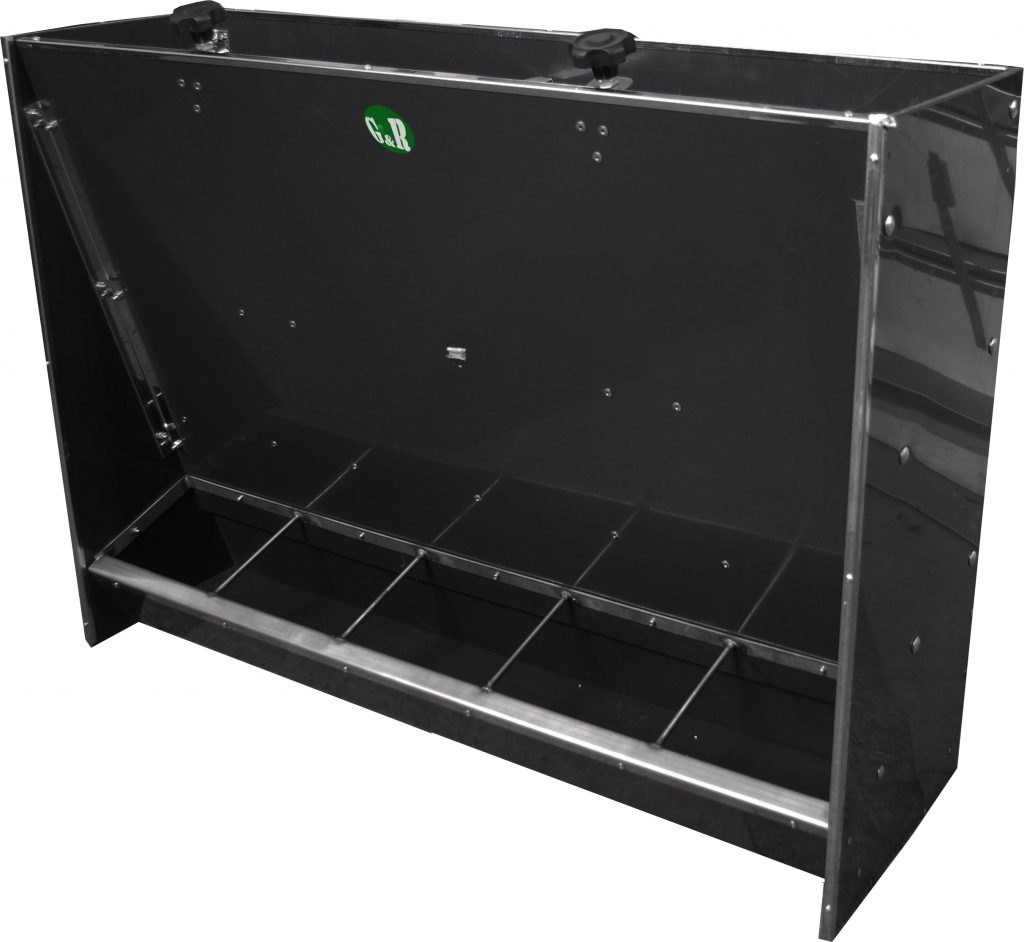 AN AUTOMATIC PIG FEEDER – FOR WEANERS 7-45KG
| No | Name | A | B | C | D | Kg/l | Pcs |
| --- | --- | --- | --- | --- | --- | --- | --- |
| 1 | AP2W | 740 | 425 | 315 | 120 | 32/46 | 16-24 |
| 2 | AP2W/2 | 740 | 425 | 630 | 120 | 64/92 | 32-48 |
| 3 | AP3W | 740 | 615 | 315 | 120 | 48/68 | 24-36 |
| 4 | AP3W/2 | 740 | 615 | 630 | 120 | 96/136 | 48-72 |
| 5 | AP4W | 740 | 825 | 315 | 120 | 64/96 | 32-48 |
| 6 | AP4W/2 | 740 | 825 | 630 | 120 | 128/184 | 64-96 |
| 7 | AP5W | 740 | 1020 | 315 | 120 | 80/115 | 40-60 |
| 8 | AP5W/2 | 740 | 1020 | 630 | 120 | 160/230 | 80-120 |
| 9 | AP6W | 740 | 1220 | 315 | 120 | 96/138 | 48-72 |
| 10 | AP6W/2 | 740 | 1220 | 630 | 120 | 96/144 | 96-144 |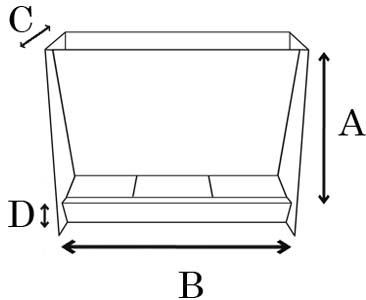 AN AUTOMATIC PIG FEEDER – FOR PIGLETS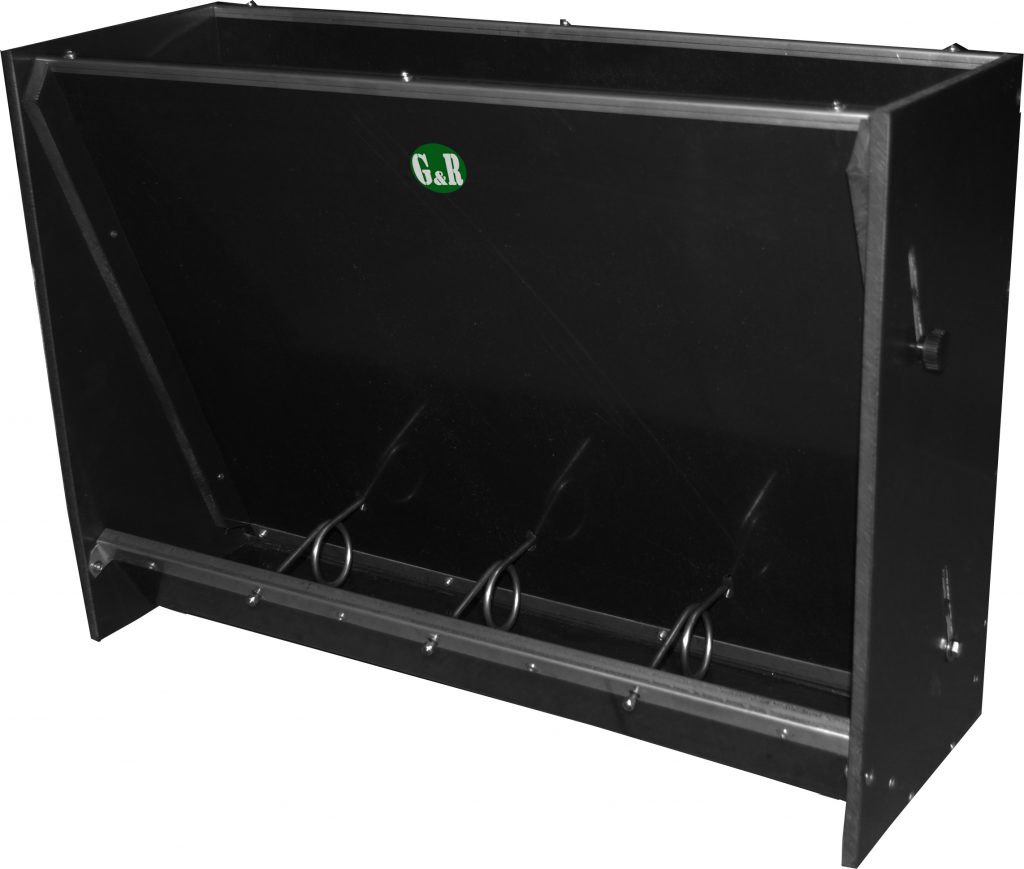 | No | Name | A | B | C | D | Kg/l | Pcs |
| --- | --- | --- | --- | --- | --- | --- | --- |
| 1 | AP2P | 430 | 305 | 200 | 80 | 8,5/12 | 10-12 |
| 2 | AP3P | 430 | 450 | 200 | 80 | 13/19 | 15-18 |
| 3 | AP4P | 430 | 595 | 200 | 80 | 18/26 | 20-24 |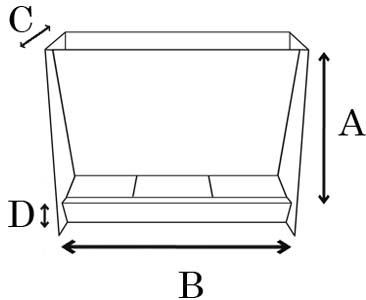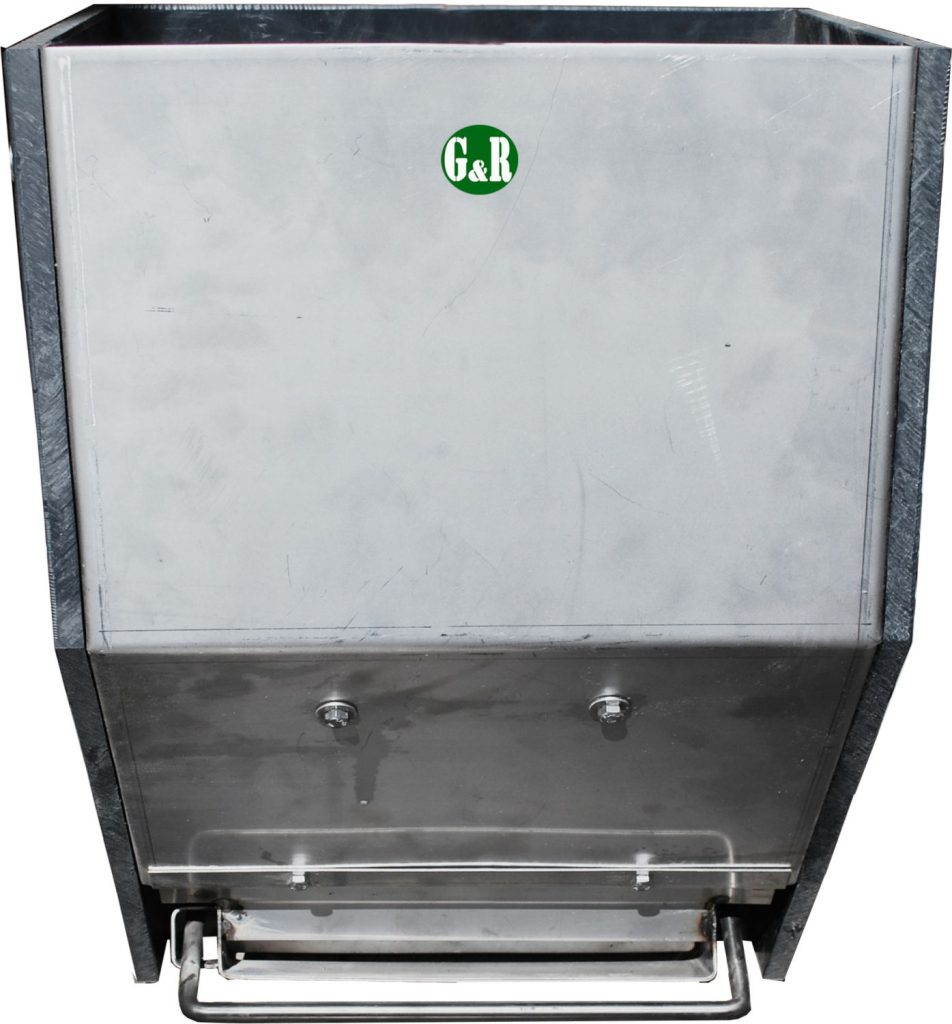 AN AUTOMATIC PIG FEEDER – FOR SOWS
| No | Name | A | B | C | D | Kg/l | Pcs |
| --- | --- | --- | --- | --- | --- | --- | --- |
| 1 | AP1ML | 1000 | 345 | 350 | 160 | 43/62 | 10-12 |
| 2 | APL | 500 | 345 | 250 | | 13/18 | 1 |
| 3 | APLK | 480 | 350 | 290 | | 15/20 | 1 |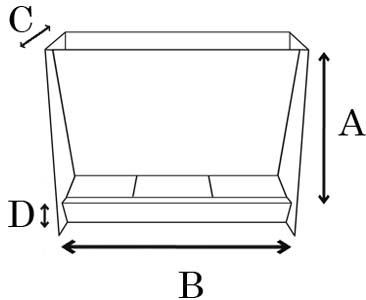 AN AUTOMATIC FEED DISPENSER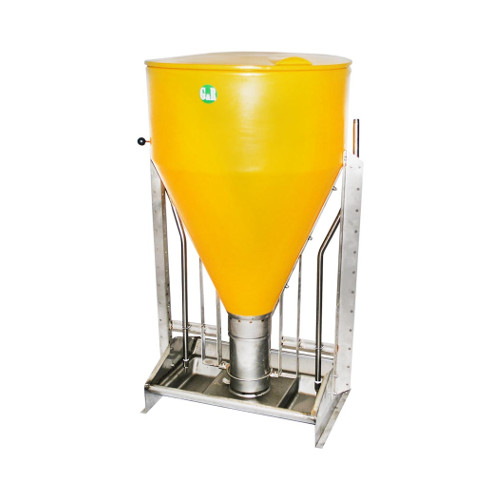 | No | Name | A | B | C | D | Kg/l | Pcs |
| --- | --- | --- | --- | --- | --- | --- | --- |
| 1 | Tubomat | 1400 | 680 | 470 | 150 | 130/180 | 40-50 |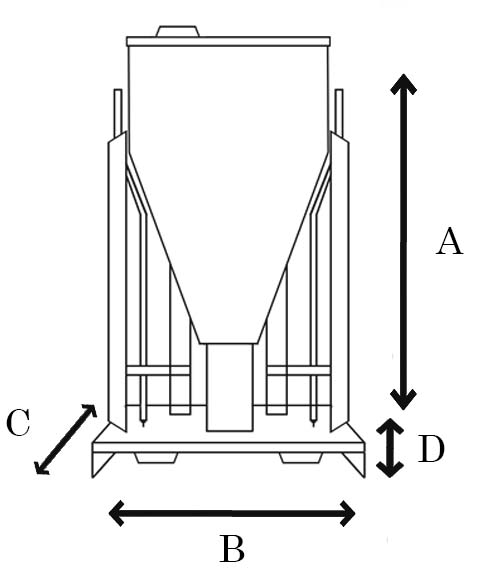 AUTOMATIC FEED DISPENSERS
Automatic box feeders for porkers constitute functional equipment of pigsties. They are made of polyethylene plates with the thickness of 12 mm, with their metal parts and connecting elements made of acid-resistant steel. The operation of the machine is based on the automatic fall of the fodder, in the form of loose materials or granules, from the tank to the trough. The dispensers are activated by animals themselves. The fall intensity of the feed is adjusted by the knobs. Some types of automatic machines are equipped with sprinklers. Placed in the trough, they moisten the fodder immediately before it is taken up by an animal. The volume of flowing water can be freely adjusted.
TUBOMAT automatic machine
Tubomat machine for "wet" and "dry" feeding. Designed for feeding of porkers from 20 until the end of fattening in pigsties equipped with feeding lines as well as for buildings with manual feeding of the fodder. It is equipped with protecting the fodder from dirt and a trough and other elements are made of acid-resistant steel. A large robust plastic tube designed specially to prevent the feed from suspending is made of plastic. The metal precise eyelet adjustment allows for precise adjustment of the fodder level.